Preparing for the wedding is like a big mosaic to be assembled by the bride and groom. And each element of this peculiar "puzzle" should be perfect only then the overall picture of the wedding celebration will be bright and unforgettable.
But what if a sweet dilemma arises when compiling a festive menu: bet on a traditional cake or surprise guests with creative cupcakes? Which option will be a win-win at a modern wedding? So, an immortal classic and a fashionable alternative between wedding cupcakes vs wedding cake enter the dessert battle!
Cake – all over the head
Cake is considered to be the king of desserts. Agree, often guests are looking forward to his appearance, as the main culmination of the evening. A beautiful cake topped with original sweet details will eclipse any dish on the festive table.
The cake is appropriate both at the celebration, organized in the classical style, and at the embodiment of unusual wedding ideas. The tall multi-tiered "handsome man", decorated with exquisite floral arrangements, looks truly luxurious. The secret of this success lies in the elegant design, delicate sophisticated details that complement the romantic atmosphere of the event.

A recognized favorite among wedding treats is able to conquer with a spectacular appearance
This is exactly the final chord that will bring together all the elements of the general style of the banquet. Visually harmonizing with the decoration of the hall and embodying the theme of the wedding, the cake will definitely leave a lasting impression.
If a cupcake is a miniature confectionery work, then a wedding cake allows you to create something more ambitious.
Custom treat
But do not rush to make a final decision, because the standard wedding cake can be replaced with original cupcakes! This is an elegant cake, which is prepared with a variety of fillings and decorated in a completely amazing way. What is the peculiarity of the cupcake, and why is it increasingly leading the ratings of the best wedding pastries?
Wedding cupcakes are not as grandiose as a multi-tiered cake, but their laconicism has a special charm. Moreover, wedding cupcakes cheaper than cake. At the same time, there are countless options for decorating this baking.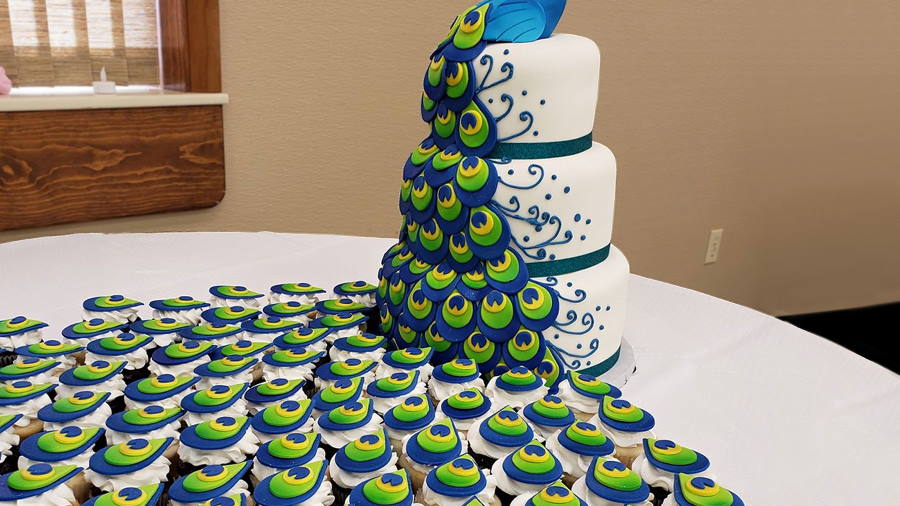 For example, beguiling curls of cream, flickering "pearl" scattering, delicate floral applications, edible photo printing or fragrant wild berries. You can order a set of cupcakes, united by a common color scheme, in accordance with the style of a wedding banquet.
Why is a set of cupcakes better?
Cupcakes are not only original, but also, of course, a fashionable dish.
Cupcakes are convenient in presentation and use. Serve them on beautiful openwork trays.
Exclusive cupcake designs are easy to design depending on your preferences and banquet style.
The colorful composition of mouth-watering cupcakes under a wedding cake will be remembered by the guests with a variety of flavor combinations.